Your delivery experience is everything and customers will judge you on it, even if it is completely out of your control. Managing demands in an ever changing landscape is one of businesses biggest pain points. The only thing that doesn't change is change, and a decade in retail is no exception. A decade ago, some of Australian retail's current household names didn't even exist – think Showpo, The Iconic, Temple & Webster, and Afterpay.
As e Commerce has grown, so too have consumer expectations around deliveries and returns. A same-day delivery offer ten years ago would have seemed a farfetched concept, yet today, through SubTrux Marketplace we can offer just that, it is becoming much more commonplace.
Adjacent industries have contributed to these expectations. Disruptor brands like Uber, Deliveroo, Netflix, and Spotify have drastically changed the way customers expect to transact. They've designed products and services to be seamless and instantaneous.
Retail's benchmark is no longer other retailers but other digital experiences.
At the dawning of a new decade, what might be the new delivery and returns norm when we look back in 2030?
With Subtrux marketplace you can utilise a list of drivers who are ready and waiting to work on your behalf, fully contactless, transparent and real time.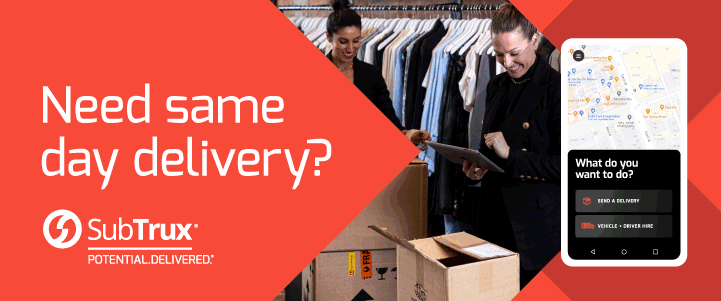 #tracking #deliveryautomation #retaildelivery #couriertransport #deliverymanagment #potentialdelivered
#transport industry #deliveryautomation #subtruxdms #delivery
#potentialdelivered